BERG BFR: Dare greatly & safely, designed to entertain & protect your most important assets.
Designed for the 'big kids' who just love adventure and thrive in the outdoors. BERG keep it simple & FUN… and don't compromise on safety.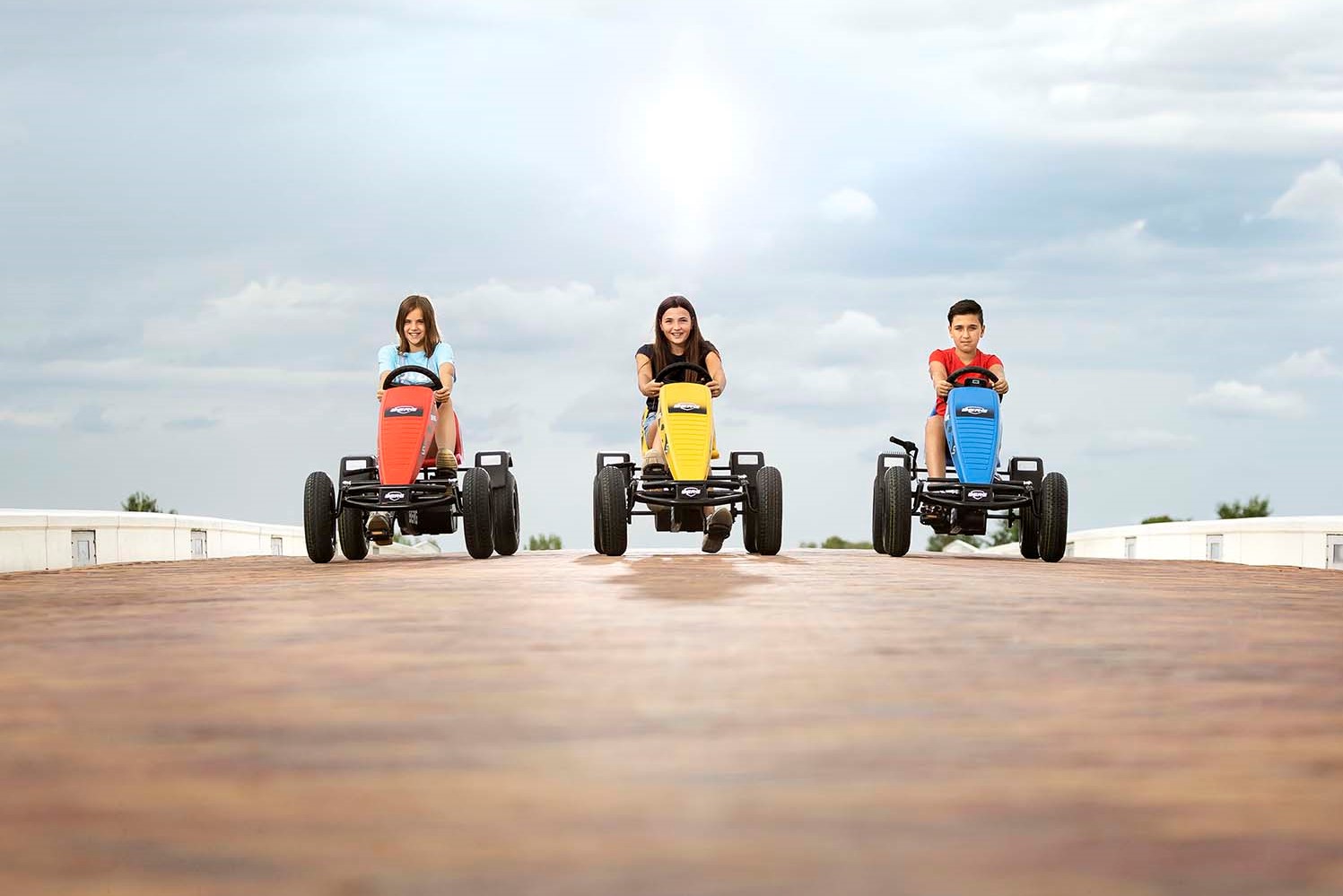 UNIQUE TECHNOLOGY
Be safe & in control
BFR [Brake – Freewheel – Reverse] allows you to pedal forwards, backwards and brake. Freewheel means can 'coast' so while the cart is still moving the pedals remain still.
Choose your challenge
Would you prefer more control & speed with three gears [BFR-3] Or how about taking the pressure off with a 250W pedal assist motor [E-BFR]
BUILT TO LAST
Dutch-engineered for top quality.
The BERG BFR is designed to last – to survive the rough and tumble of outdoor play by the most enthusiastic explorers.
The best investment you'll make.
When it comes to being active outdoors, the BERG BFR is the ultimate incentive. Send the little & big kids outside while you have some peace & quiet. You can thank us later.
EASY TO ASSEMBLE
Get ready to ride.
Assembling anything for your kids is cause for concern. Don't worry – BERG ensure minimal effort to get it together & you'll be riding in no time.
DOUBLE THE FUN
Add a passenger seat
Take turns as you explore the great outdoors or the 'designated grown up' can take the kids on incredible adventures.
Do you like the classics? The BERG B. Super Red is a striking colour ???? with mudguards, reflectors & a suave front spoiler. Stay safe as the swing axle keeps you stable as you ride on uneven surfaces. Would you like to dress up your brand new pedal go-cart? Add a super fun accessory like a trailer or passenger seat.
Four wheel stability
Adjustable seat [5 options]
Robust steel powder coated frame suitable for commercial use
Pneumatic [air filled] tyres ensure supreme comfort
Maintain full control with the coaster brake, hand brake and parking brake
Unique BFR technology [Brake – Freewheel – Reverse] allows you to pedal forwards, backwards and brake
Freewheel allows you to 'coast' so while the cart is still moving the pedals remain still
Swing axle keeps you firmly grounded
Ball bearings makes pedalling super light
Mud guards keep you protected
Easy to assemble
Handy & fun accessories available
User height 125cm – 190cm
Max user weight 100kgs